Overview
About
Passengers: 5,518
  |   Crew: 2,200
Passengers to crew: 2.51:1
Passengers to space: 41.3:1
Launched: 2018   
Deck 3 layout
Amenities
Main Dining Room
Conference Center
Cabins
Balcony
Cabin size: 182 - 272 sq. ft.
Connected rooms: 323
Accessible rooms: 32
Maximum passengers: 6
Number of cabins: 1796
Activities & entertainment
CruiseCritic Meet and Mingle
Dance Classes
Dance Classes
Dance Parties
Fitness Classes*
FlowRider (2)
Hot Tubs (9)
Pool Games
Pools (4)
Rock Climbing Wall (2)
Running Track
Scavenger Hunts
Sports Tournament
Trivia
Vitality At Sea Fitness Center
Vitality At Sea Spa*
Wine Tasting*
Zipline
Waterslides (4)
Luckey Climber
Casino Royale*
Dazzles
Deck Parties
Demonstrations
Entertainment Place
Game Broadcasts
Game Shows
Jazz On 4
Karaoke
Live Music
On Air Club
Poolside Movies
Royal Promenade
Royal Theater
Royal Theater
Studio B
The Attic*
Wellness Lectures
Main Dining Room - American
Wonderland - Avant Garde*
Sugar Beach - Candy*
Coffee Shop - Coffee Bar*
150 Central Park - Farm to Table*
Boardwalk Dog House - Fast Food
Johnny Rockets - Fast Food*
Trellis Bar - Garden Bar*
English Pub - Gastropub*
Vitality Café - Health Conscious
Jamie's Italian - italian
Izumi - Japanese*
Boleros - Latin bar*
Park Café - Light Fare
Schooner Bar - Nautical bar*
Rising Tide Bar - Niche Bar*
Rising Tide Bar - Niche Bar*
Café Promenade - pastries
Sorrentos - Pizza
Bionic Bar - Robotic Bar*
Playmakers Sports Bar & Arcade - Sports Bar*
Chops Grille - Steakhouse*
Vintages - Wine Bar
* May require additional fees
5

contributions
2

helpful votes
Terrible cruise! Do not go!! Boring Boring Boring! My 2 kids and myself are currently on this ship... first Puerto Rico canceled and Bahamas put in its place... then St. Thomas canceled and just another Boring day at sea. Most shows canceled and the entertainment is absolutely
terrible! No cruise director... nothing to do! Food not good! Even though ship is running at only 50% capacity at most... we went to dinner tonight and literally were walked into dining room twice and no tables available...then walked out to buffet...buffet was horrible, mostly closed down with cold food...q representative came up to try and bring us down to try and find a table at dining room, at this point we declined, went back to our room and to rent a 3rd movie and lay in bed with Nothing to do again . Terrible terrible family vacation.... do not make the same mistake....keep your $8k plus and save it for your children
…
While our trip aboard Royal Caribbean Symphony of the Seas has been wonderful, I strongly discourage you from taking your family to see the show "Hairspray." It is filled with sexual inuendose of interracial sex and oral sex and disrespect to parents. I was agast having brought
my 14 year old daughter to the live performance. The performance is definitely not family friendly.
…
Dan P wrote a review Dec 2021
Spring Hill, Florida
4

contributions
2

helpful votes
Went on a cruise on this ship last week. It is a great ship, which one would expect from the largest cruise ship in the world. The entertainment is outstanding. Have been on several cruises with different cruise lines and the entertainment on this ship was the best I have
seen. Was fortunate to eat at all the specialty restaurants except Wonderland and they were all quite good as was the dining room. Central Park is my favorite area on the Oasis class ships and again found a stateroom close by to be very nice. Sliding down The Ultimate Abyss was certainly something unusual to do on a cruise ship. All in all, I certainly recommend o cruise on this ship.
…
Miami, Florida
36

contributions
29

helpful votes
Me and my wife love cruises and we had the opportunity to work as a contractor with a Lab doing Covid19 test for all 2000 crew members on board the Symphony of the Seas for 8 consecutive weeks without debarking. I get to explore every corner of the Cruise ship and I can tell you
that is a totally rewarding experience! All shows are at a Broadway or Las Vegas level!! Very professional actors and performers. To mention a few: HIRO the Aqua show is amazing, the Ice skating show is superb! Singer Mark Preston former lead vocal of the Lettermen's has a clear and powerful voice still. Jazz club and performers are high quality and this is only on the entertainment part. The dining experience has a wide variety of restaurants and bars, and all of them are the best choice for your palate! Now on the STAFF part I was not able to remember all crew member names but just to mention some are: Carlos, Eloy, Pachi, Diego, Kevin (Mexico) Benedicto, Herbert, Sherwin, Rommel, Vance, Arico, Melanie (Philippines), Roxana (Romania), Alick, Sudeep, Priya (India), BeerSee, Depak (Mauritius), Alper (Turkey), Maria Sol Popovich (Argentina) The Dolgovas, Marina (Ukraine) Captain Rick (Canada) and many more staff members that make an unforgettable experience on board of the largest ship in the world weighing an outstanding 228000 tons Symphony of the Seas! Thank you crew members!
…
Katy, Texas
47

contributions
134

helpful votes
Not too much I didn't enjoy about this cruise experience. This ship is huge and offers pretty much everything you could possibly want. We actually had a hurricane heading toward Miami and decided to go ahead and fly to Miami, take a wait and see attitude as to whether then ship
would depart with passengers. About half the passengers cancelled, so we had plenty of room and service. We maneuvered around the hurricane, ended up cruising an extra day due to the storm (ok by me!)
…
Upcoming itineraries
Itinerary
7 Night Cruise to the Eastern Caribbean
Departure date
Saturday, 12/11/22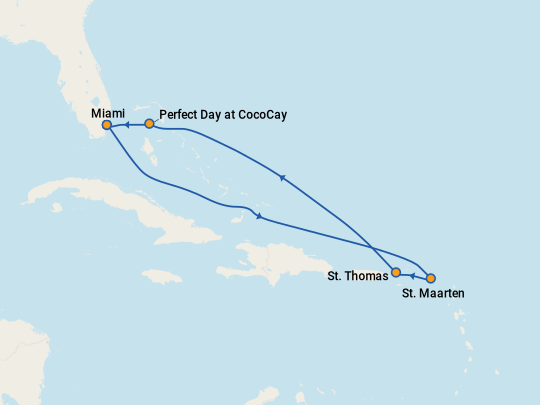 Prices are cruise only, per person, double occupancy, and are provided by our partners. Taxes, fees and port expenses are not included. Fuel supplements may apply. Availability of prices is subject to the supplier's pricing availability.