Overview
About
Passengers: 2,620
  |   Crew: 1,292
Passengers to crew: 2.03:1
Passengers to space: 56.6:1
Launched: 2004   
Deck 2 layout
Amenities
Gents
Grand Lobby
Golden Lion
Tour Office
Britannia Club
Royal Court Theatre
Photo Gallery
Gents
G32
Bar
Casino
Disabled Restroom
Britannia Club
Bar
Cunard Connexions
Tour Office
Britannia Restaurant
Illuminations
Pursers Office
Voyage Sales Office
Gents
Cabins
Balcony
Cabin size: 250 - 270 sq. ft.
Connected rooms: 150
Accessible rooms: 3
Maximum passengers: 3
Number of cabins: 813
Activities & entertainment
Afternoon Tea
Art Classes*
Atlantic Room
Ballroom Dance Classes
Beauty Salon*
Book Clubs
Bookshop*
Bridge Classes
Canyon Ranch SpaClub*
Canyon Ranch SpaClub*
Canyon Ranch SpaClub*
Champagne Afternoon Tea*
Cunard Connexions*
Darts Competitions
Deck Quoits
Fencing Classes
Fitness Center
Fitness Classes*
Gala Evening Balls
Golf Competitions
Hot Tubs (7)
iPad and Computer Workshops*
Karaoke
Library
Needlework & Knitting Corners
Onboard Movies
Photo Studio*
Pools (3)
Relaxation Lounge*
Scavenger Hunts
Shuffleboard
Shuffleboard
Shuffleboard
Shuffleboard
Shuffleboard Competitions
Solo Travelers Get Togethers
Sports Centre
Sports Centre
Thalassotherapy Pool*
The Fairways*
Therapy Pool*
Trivia
Wellbeing Seminars
Baby Zone*
The Kids Zone /Teen Zone
The Play Zone
Casino*
G32
Illuminations
Illuminations
Illuminations
Nightly DJ
Nightly Live Music
Onboard Lectures
Passenger Talent Shows
Planetarium Movies
Queens Room
Royal Court Theatre
Royal Court Theatre
G32
Bar - Nightclub Bar*
Bar - Pool Bar
Bar*
Bar*
Bar*
Bar*
Bar*
Kings Court - Casual
Champagne Bar - Champagne*
Churchill's - Cigar Bar*
Sir Samuel's - Coffee & Wine*
Golden Lion - English Pub*
Boardwalk Café - Fast Food
The Verandah Restaurant - French*
Britannia Club - International
Britannia Club - International
Britannia Restaurant - International
Britannia Restaurant - International
Commodore Club - Martini Bar*
Chart Room - Nautical bar*
Terrace Bar - Pool Bar*
Grills Lounge - Suite Guests
Grills Terrace - Suite Guests*
Princess Grill - Suite Guests
Queens Grill - Suite Guests
Carinthia Lounge - Wine Bar*
* May require additional fees
Roma
29

contributions
40

helpful votes
Dear Cunard Management, i am writing this here because there is no way i can contact you and your customer service people basically tells me that you have no managers.... I tried to call , the customer service told me to write ( in a very rude and hill mannered way ), I wrote
to customer service and nobody is answering. I wrote to Cunard Group and to Onboard service for a month and nobody bother to even acknowledge the email. This is appalling! I booked a Britannia balcony for the cruise in August Southampton to NewYork and i need some support that i am not getting. I hope anyone from Cunard reads my message before i cancel the trip
…
In all, I have now had four cruises cancelled due to covid. Each time they sent an email to say I could have 100% refund, or the fcc of 125% of the value. As you can probebly see, four times over, I would have doubled my initial payment. I called to rebook, and was pleased to
see this was correct. I rebooked the same cruise, and was left with a substantial credit, to book another one. A few weeks later, I called to book the second one, and was told cunard had made an error and I now not only didn't have a credit on my account, but also, owed funds for the one I'd already booked - and indeed had an invoiced to show it was fully paid. I have got onto cunard and now have this query being reviewed by their complaints team (note: don't bother with cust serv agents, they have obviously been told to try and fob off customers). I wondered, if anyone else had these same issues?
…
1

contribution
1

helpful vote
Such a joke ! Refund to cancelled cruise by Cunard dragged on for more than SIX months and ZERO response from them. Suddently, after stepping up actions to get back my refund, they came back with a reply saying all refunds to be done by cheque now, BUT, they cannot send cheques
to internatinal customer due to "several issues"! Cunard takes all sorts of payment mode when it comes to collecting money from customers, but can ONLY refund through cheque to a registered UK address ! Make sense to you ? Anyone ? So beware ! Even Cunard comes up with tricks like this ! Shocking !
…
Glasgow, United Kingdom
43

contributions
68

helpful votes
We travelled Southampton to NYC in Aug 2017 ( had to put nov 2019 as so late in doing my review ) . It was fashion week so lots of models and Designers on board. It was simply one of the best experiences we have ever had, we had never cruised before and so glad we pick Cunard
as our first, the welcome, service, food were all amazing can not fault it. The sail away party is just great and gets you in the mood. The guest speakers were really interesting. Night club is great too. We loved the bar and spent most nights in here. We did the formal dining twice and It was amazing, the staff were fantastic with my daughter who was only 3 at the time. Kids club was great my daughter loved it and it open until 11pm 😄. I would recommend buying the soft drink package, We cannot wait to travel again in Aug 2021 we are doing transatlantic again but NYC to Southampton this time.
…
Bingley, United Kingdom
1002

contributions
252

helpful votes
I sailed from New York to Southampton, I used the cruise to relocate back to the UK after living in Florida for 7 years. It was cheaper than flying and I was able to bring more luggage back while I waited for the rest of my belongings to be shipped. Having never sailed before I
was not sure what to expect, but I was pleasantly surprised by the size of the room and the amenities there were in it. The ship was lovely, the food was tasty and fresh and I enjoyed both the buffet and formal nights The entertainment was on the whole pretty good Although I was using the cruise as a means to an end I actually enjoyed myself and would recommend this ship to others
…
Upcoming itineraries
Itinerary
28 Night Cruise to the Eastern Caribbean
Departure date
Monday, 13/12/21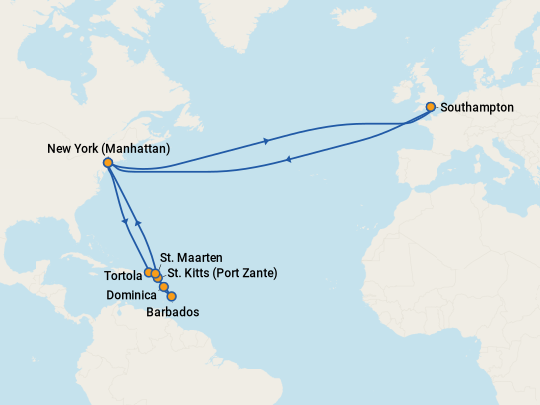 Prices are cruise only, per person, double occupancy, and are provided by our partners. Taxes, fees and port expenses are not included. Fuel supplements may apply. Availability of prices is subject to the supplier's pricing availability.