Overview
About
Passengers: 2,754
  |   Crew: 1,090
Passengers to crew: 2.53:1
Passengers to space: 41:1
Launched: 1999   
Deck 1 layout
Cabins
Interior Upper/Lower (1A)
Activities & entertainment
Art Auction
Bingo*
Cloud 9 Spa™*
Dance Classes
Deck Parties
Disco
Evening Kids Programs*
Fitness Center
Fitness Classes*
Fitness Studio*
Green Eggs n Ham Breakfast*
Groove For St. Jude*
Hot Tubs (5)
Ice Carving Demonstrations
Jogging Track
Karaoke
Mini Golf
Photo Portraits*
Pools (2)
Ropes Course
Salon*
Sauna
Seuss-A-Palooza Parade & Storytime
Shops
Shuffleboard
SkyCourt
Spa Parties*
SportSquare™
The Warehouse Arcade*
Thermal Suite*
Treatment Rooms*
Trivia
White Party
Wine Tasting*
Waterslides (2)
Serenity™
Serenity™
Circle "C"®
Camp Ocean
Club O2®
Carnival Seaside Theater
Carnival WaterWorks™
Comedy Shows
Limelight Lounge
Lip Sync Battle
Live Nightly Music
Main Show Lounge
Main Show Lounge
Outdoor Movies
Piano Bar
Sunrise Casino*
Bar - Pool Bar*
Aft Restaurant - American
Forward Restaurant - American
Radiance Restaurant - American
Sunshine Restaurant - American
Chopsticks - Asian
Cherry On Top - Candies*
Lido Marketplace - Casual
JavaBlue Café - Coffee & Pastries*
Guy's Burger Joint - Fast Food
Chef's Table - Gourmet*
Cucina del Capitano™ - italian*
Bonsai Sushi Express - Japanese*
Sunrise Lobby - Lobby Bar*
Alchemy Bar - Martini Bar*
BlueIguana Cantina - Mexican
Piano Bar 88 - Piano Bar*
Pizzeria del Capitano - Pizza
RedFrog Rum Bar - Poolside Rum*
BlueIguana Tequila Bar - Poolside Tequila*
RedFrog Pub™ - Pub*
The Deli - Sandwiches
Seafood Shack - Seafood*
Guy's Pig & Anchor Bar-B-Que - Southern BBQ*
Skybox Sports Bar - Sports Bar*
Fahrenheit 555 Steakhouse - Steakhouse*
* May require additional fees
Hey D wrote a review 16 Nov
Rude bartenders (one looked like a manager possibly which needs fired. Black hair bangs hair in ponytail possibly latina) in the area where people sing and gather for karaoke near the sushi bar. I do not recommend!! Also, a huge turn off was calling guest services and they never
answered but one time during the entire trip.. (maintenance didn't even answer) when I asked for a fan for my HOT room and for help with cooling the a/c. NOBODY ever showed up. I wanted to love the carnival but because of those 2 rude incidents I will never spend money just to be treated poorly again. RUDE bartenders and POOR GUEST SERVICES. (Pick up the phone and stick to your word of sending help that actually would show up) DO BETTER! 👎🏼
…
One of the pools was green and closed the first day. The hot tubs were barely warm. Food was cold. Every meal, every day. Activities weren't well planned. We packed for a white glow party and 80's night because every Carnival cruise has them, but they weren't on our
schedule. Then on the last night, the cruise director shows up at the end of the 930pm show dressed as Richard Simmons to invite everyone to the 80s party. Needless to say, he was the only one dressed for it. No announcements on port days with timeline or instructions. There is no such thing as a bad cruise, but this ship definitely does not live up to Carnival standards.
…
Bradford, Pennsylvania
244

contributions
65

helpful votes
It was nice to be cruising again, but some of the passengers on this ship should be ashamed of themselves. Yelling in the hallway at 3:00 am about who they were going to have sex with does not make for an enjoyable time. Our friends said their hallway was worse believe it or
not. The ship has been nicely refurbished. The staff were great. Always saying hello and providing great service. We had an interior room which was clean a had just enough room for 2 people (I did miss the balcony though!). The food was good but the portions were noticeably smaller. The entertainment was pretty good. There seemed to be always something going on. We had a sea day, a day at Nassau and a day at Half Moon Cay. If you want a quiet beach day at Half Moon, hit the beach, take a right and walk. Keep walking past the pirate ship bar and past the beach shacks. Just keep walking and you will find peace and tranquility. All in all it was great to be back on a ship but I feel bad for the staff who have to put up with some of these classless people.
…
After booking 5 months in advance and me calling to make sure everything good. They told me everything is good. 2 week before the trip we call to ask about the kids getting covid test they told us yes. But right after they told us we were missing a document in order to get on
the boat. They never told me about so short story we not able to go on vacation.. worst company ever...
…
Kaliningrad, Russia
18

contributions
24

helpful votes
Flew 12 hours and 6000 miles to go on our fist cruise. First - got an email stating we have to provide COVID-test prior boarding, no matter if you're vaccinated or not. Email came two days before the departure so we could not be on time with it and had to pay extra 300$ for
rapid testing at port. There was absolutely no information about this requirement at the time of purchase and check in. Ok, may be my bad, could have missed this information. Second - we were not allowed to disembark because of unvaccinated baby(what???). Just were stopped at the gangway and told that these are the local health protocols. Go back or you can disembark separately without baby. I carefully checked Carnival website and there was no information about that. Only stating you're not allowed to disembark if you're not fully vaccinated, but how this could be applied to 9 months old baby??? We should have been informed before the trip. If I only knew that we wouldn't be allowed to get off the ship I'd definitely choose another travel option. At the same time you may purchase so called "bubble tours". These tours claim to be isolated tours to maintain health protocols blablabla. In fact this purchase is the only option to get off the ship for "unvaccinated baby" with fully vaccinated parents. Carnival claims these tours were exclusively designed to avoid interacting unvaccinated passengers with crew at the port or locals. But in fact, bubble tours participants walk the same way and stay in the same crowd waiting for transport with the others. There's nothing about health care or protocols, this is about how to force shocked passengers buy extra tours. 150$ for a boat ride or you cannot get off the ship. I filled a claim about this situation but never got response from Carnival. Ocho Rios was also disappointing. Shopping village with overpriced Chinese-made souvenirs surrounded by fences and security. And again, as previously mentioned, if you want to leave this village and see something more Jamaican that Chinese printed t-shirts or 8$ magnets you'd better buy a bubble tour. Total spendings for this cruise came to a value of Bahamas weekly tour with first class plane ticket. Think twice before you pick this tour, especially if you plan to travel with your baby. You won't be allowed off the ship.
…
Upcoming itineraries
Itinerary
5 Night Cruise to the Western Caribbean
Departure date
Saturday, 04/12/21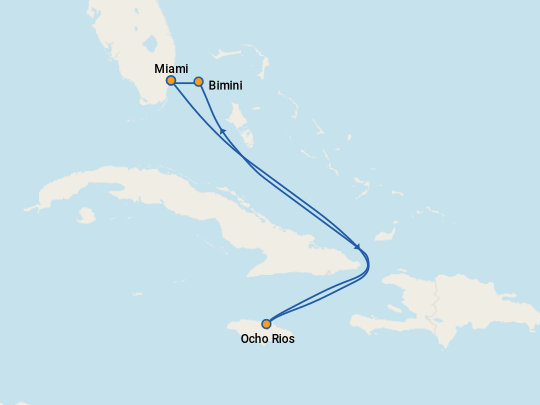 Prices are cruise only, per person, double occupancy, and are provided by our partners. Taxes, fees and port expenses are not included. Fuel supplements may apply. Availability of prices is subject to the supplier's pricing availability.