Overview
About
Passengers: 5,484
  |   Crew: 2,200
Passengers to crew: 2.49:1
Passengers to space: 41:1
Launched: 2009   
Deck 3 layout
Cabins
Ocean View Accessible (1N)
Amenities
Main Dining Room
Conference Center
Opal Theater
Studio B
Cabins
Balcony
Cabin size: 182 - 274 sq. ft.
Connected rooms: 454
Accessible rooms: 25
Maximum passengers: 6
Number of cabins: 1796
Activities & entertainment
AquaTheater
Arcade*
Carousel
Central Park
Challenger's Arcade*
CruiseCritic Meet and Mingle
Dance Classes
Dance Classes
Dance Parties
Fitness Classes*
FlowRider (2)
H2O Zone
Hot Tubs (9)
Kids' Arcade*
Library
Oasis Dunes
Pool Games
Pools (3)
Rock Climbing Wall
Rock Climbing Wall
Rock Climbing Wall (2)
Running Track
Scavenger Hunts
Sports Tournament
The Living Room
Trivia
Vitality Spa and Fitness Center*
Vitality Spa and Fitness Center*
Wine Tasting*
Zipline
Waterslides
Adventure Ocean Theater
Adventure Science Lab
Aquanauts
Explorers
Fuel Teen Disco
Imagination Studio
Kids' Avenue
Nursery
Sports Court
Voyagers
Workshop
Live Music
AquaTheater
Casino*
Comedy Live
Dazzles
Dazzles
Deck Parties
Demonstrations
Entertainment Place
Game Broadcasts
Game Shows
Jazz On 4
Karaoke
Opal Theater
Opal Theater
Opal Theater
Poolside Movies
Royal Promenade
Studio B
Wellness Lectures
Blaze
Main Dining Room
Main Dining Room - American
Main Dining Room - American
Izumi - Asian*
Wipe Out Café - Burgers
Park Café - Cafe*
Starbucks - Cafe*
Windjammer Marketplace - Casual
Champagne Bar - Champagne*
Café Promenade - Coffee Bar*
150 Central Park - Farm-to-table*
Boardwalk Dog House - Fast Food
Johnny Rockets - Fast Food*
Wipe Out Bar - Flowrider Bar*
Trellis Bar - Garden Bar*
Globe and Atlas Pub - Gastropub*
Cups & Scoops - Ice Cream*
Giovanni's Table - italian*
Boleros - Latin bar*
Coastal Kitchen - Mediterranean
Sabor - Mexican*
Schooner Bar - Nautical bar*
Rising Tide Bar - Novelty Bar*
Rising Tide Bar - Novelty Bar*
Sorrentos - Pizza
Mast Bar - Pool Bar*
Pool Bar - Pool Bar*
Sand Bar - Pool Bar
Sky Bar - Pool Bar*
Solarium Bar - Pool Bar*
Solarium Café - Pool Bar
Chops Grille - Steakhouse*
Suite Lounge - Suite Lounge
Sabor Bar - Tequila Bar*
Vintages - Wine Bar*
* May require additional fees
From start to finish Royal Caribbean continues to impress. The entire Crew of Oasis exceeded expectations. Starting with our state room attendant, Jesse. He was awesome. He added some personal touches by folding towels like animals and a card each night with something
inspirational. We purchased the dinning package. Each morning we had room service bring breakfast. We ate at 150 Central Park three times. Each time Melbert and team was at our beck and call. Food was amazing. Especially the special Thanksgiving Day Turkey Dinner. We ate at Chops three times. Piyush had our drink orders memorized after the first day and really made us feel welcome and appreciated. Food was perfect. Then on to the casino where Anne, Fery and Michael we're all over it. They made drink suggestions. We never went 10 minutes with out one of them checking on us. We had great weather for Coco Cay (which gets better every time), St. Thomas and St. Marteen. It was hard to have to leave and come back home. Hope we have the pleasure of sailing with this Crew again.
…
Buena Vista, Colorado
131

contributions
63

helpful votes
Getting there… This was our second cruise on a Royal Caribbean ship, our first being a honeymoon cruise on the Harmony of the Seas four years ago. We had such a wonderful time that we wanted to share the experience with our family so this time we brought all of our adult kids
and their significant others. Overall it was an excellent week. The cruise line took numerous precautions due to the pandemic and made us feel at least as safe as when we are in our local environments. Vaccines were required for all eligible passengers and crew, care was taken to minimize close gathering, masks were enforced while in doors in public spaces unless one was eating or drinking, and hand sanitizer stations were everywhere. I was particularly impressed with how the crew was able to handle gently reminding passengers to mask up without being confrontational. Further, we were sailing at reduced capacity which also made the boat seem less congested. Our cabin was a balcony stateroom and was well designed and comfortable. A few more electrical outlets would have been nice, but this it always the case on cruise ships. We were in 7166 near the bow elevator lobby and it was very convenient. All of the dining options we tried were very good and the service was excellent. The entertainment options were also a few rungs above what we have seen on other cruise lines. The instant messaging function on the Royal Caribbean app was a very convenient feature, though I do not think RC should charge extra for it if one is already paying for their abysmal internet service. A few less than positive observations: The crew is largely comprised of people for whom English is not their first language. The heavy accents were often difficult to understand and this was further exacerbated by the muffling effect of the masks. I do not mean to disparage. Their English was certainly better than my command of any other language, however it did make communication a challenge. We also found that the public address volume was so loud that the voice transmission was often over-modulated so that it could not be understood. I was prepared to chock this up to my 60 year old ears until several of the younger family members mentioned the same issue. Our largest complaint was in the shore excursions. If you do not book through the cruise line you run the risk of being marooned if your excursion has a problem that causes you to return late. This being the case, we booked everything through the cruise line. One outing on St. Thomas was cancelled. We were able to find another excursion but most of the more desirable ones had already sold out. Then the same thing happened twice for our excursion on St. Maarten. Our first choice was canceled a week before the cruise, and then our second choice was canceled the night before we docked. At that point the only remaining options were not desirable at all, so we elected to spend the day exploring the shopping district of St. Maarten only to discover that it was a national holiday (St. Maarten's Day) and all of the stores were closed. We were hard pressed to even find a restaurant for lunch. I feel that RC should do a better job of offering more reliable shore excursions. Finally, the internet offered on the ship is grossly substandard and RC should be ashamed to charge money for it. They bill it as the "fastest internet at sea." In another place I read that it rivals the speeds of home internet. I initially had the Surf package. I was only able to achieve download speeds of less than 1 mbps and uploads that were too low to register. Needless to say, this was too slow for many websites to even load before timing out. When I complained they upgraded me to the "Surf and Stream" package where I was rewarded with download speeds of less than 2 mbps. Fast enough to surf, but videos froze up and buffered when trying to stream. I feel that charging for this service is a ripoff and detracts from Royal Caribbean's brand. I do not recommend wasting your money on it. In short, this was an excellent week and we would consider sailing with Royal Caribbean again, though there are certainly some remaining cobwebs to be sorted as they ramp back up to full operations.
…
My husband and I recently sailed on the Oasis from Miami through the Eastern Caribbean, from November 7th through the 14th, with 3 shore days and 3 sailing days. The sailing days were fine, and our days on board the ship were fun. Unfortunately, our shore days were very poor.
1. Our first shore day was the Perfect Day experience at CocoCay. This was overall okay, and all of our group of 12 persons had a good time here. My sister and I did the zip line excursion, and this was fun, but quite short. Especially considering the cost. Had the description of this excursion included the information that there were only 3 actual zip lines, I would not have signed up. Fun, but not a good value for the money, and our time would have been better spent on the beach. 2. For our second shore day, at St. Thomas, my sister and I had signed up for the Helmet Dive. This was canceled without explanation. (So this was cancellation number 1.) This was very disappointing, as my sister does not swim well, and cannot participate in scuba or snorkel activities. As a substitute excursion, the RC booking agent had suggested the Maegan's Beach/ Drakes seat/ Pirate museum. Unfortunately, several things about this excursion went poorly. 1. First, all persons signed up for this excursion were led by a guide from the ship to a fenced in area at the pier, and then simply herded in, along with a few hundred other persons who had signed up for various tours. Extremely loud music was played here,few signs were posted, no further instructions were given and despite waiting for 30 minutes in the heat, asking several employees for guidance, seeking out others in the crowd who might have also signed up for our particular tour, etc. not one employee seemed to know what was going on. Our tickets indicated station 6 for meeting up, only written as " Ste. 6", and no mention of a station at all by the employee who led us from the ship, then disappeared as soon as the group reached this spot. It was extremely chaotic, noisy, crowded and VERY confusing. And cost us a total of 35 minutes. We finally found a few other passengers who had also signed up for the same tour and grouped with them. Eventually, we were given arm bands and led to a tour bus. 2.This bus was open air, with poor brakes that squeaked horribly, no shocks, and reeked of body odor. Our driver , who said his name was "Liberty", gave us no information, scant instructions and certainly no " tour". We were driven to a random overlook for a photo op, which did have a lovely view, but I only found out later that this was actually "Drakes Seat" , there was no sign and no explanation given. It was crowded with several buses worth of people, and we only had 15-20 min here. Once again, very chaotic. 3. After getting back on the bus, we were driven without explanation to a beach, and dropped off at the far end of the parking lot with a one sentence instruction " be back in two hours". No other information was given. The far end of this beach, where we were dropped off, had no facilities, no food, no lifeguards, etc. We did find a beach burger shack, restrooms and beach chairs only after a long walk and discussion with others who were visiting the beach. We paid for our lunch ourselves. So much for "Lunch Provided!" 4. After getting back on the bus, our driver did not notice that two people who were actually part of a different bus group had mistakenly gotten onto our bus. As passengers, we all spoke up and asked about this, and made sure that this couple got off and headed down to their original transportation. 5. We were driven to the Pirate Museum. As a group, we were shown a very short video with generalized information about pirates in the eastern Caribbean, then given 30 min to wander through the museum, which is of poor quality, and quite small. We were given 20 min to shop at the museum gift shop, and then driven back to the pier. By this time, there was no time to go independently into St. Thomas for shopping, sightseeing or eating. So much for St. Thomas. It was disappointing and cheesy, chaotic and very poorly run. 4/10, I would NOT recommend. For our second shore excursion, this time on St. Maarten. most of our 12 person family group had chosen the "American Sailing Regatta". This was cancelled without any explanation. (Cancellation number 2) By the time we were notified of the cancellation, most of the other shore excursions were sold out. Our family group then had to split up into different activities. We chose the beach excursion to Orient Beach, which had good reviews. This excursion was canceled the night before we docked, due to political unrest in the area. (It's fine that they were keeping us all safe, but why schedule a stop for the boat to this island if the area is unsafe right now?) YES, this was the THIRD shore excursion cancellation!! At this point, having so little notice, we gave up on the idea of an arranged shore excursion and instead elected to spend the day exploring the shops of the pretty downtown area of St. Maarten. Sadly, the day of our visit was a national holiday (St. Maarten Day) and all of the shops were closed. It would have been very helpful if the ships literature or even any of the staff had announced the holiday and the likelihood that St. Maarten's acclaimed shopping district would not be open (we later discovered from our manicurist that the crew was well aware of this fact). So, 3 offical shore excursions cancelled and one brief unsuccessful day on our own on shore.. Overall, trip was ok only because being on the actual boat was fun. Either skip the shore excursions or simply wait one more year for Royal Caribbean to get its act together......5/10 be cautious using this company......
…
Cole B wrote a review Oct 2021
New York City, New York
10

contributions
5

helpful votes
Room: The bed was too firm for me, and the shower was a bizarrely tiny little alcove, everything else was fine. Layout: There's no hub to the ship, it's broken up into different areas. Central Park is very nice to walk through or sit down and talk in. The Royal Promenade feels
like being in a shopping mall. Food and drink: Breakfast was like every cruise ship breakfast - serviceable but nothing to write home about. It's pretty much the same thing everywhere - Johnny Rockets, main dining room, and buffet are all serving the same eggs, hash browns, pancakes, pastries, etc. A lot of it clearly comes out of a freezer. The food in the main dining room was good (not outstanding, but good) and the buffet was fine (a bit limited, and only open for breakfast and lunch). As far as the other restaurants - Chops Grille was definitely the best, they serve a great filet mignon. I was not especially impressed with 150 Central Park, though my husband really liked it. I tried a burrito at El Loco Fresh and it was a step above Taco Bell (which is not a knock, I like Taco Bell fine). Sorrento's pizza was average. The ice cream at Sugar Beach is great, the quadruple chocolate was my favorite. The best thing I had was the lamb tagine at the Solarium Bistro (only downside is the appetizers and dessert are served buffet style; maybe I'm being picky, but I don't want to have to get up during a sit-down meal and pick things out). I didn't try the BBQ, the cafes, Izumi, or Giovanni's Table. Drinks were great, except for the Bionic Bar - it's a novelty, robots are not going to be replacing human bartenders anytime soon. Rising Tide was my favorite bar, mostly because it's smaller than the others. Entertainment: The AquaTheater performance must be seen, it is the best entertainment I've seen on a cruise ship. The ice show is just bizarre. Get something other than Cats, please - I don't like musicals in the first place but Cats is just 90 minutes of tuneless songs (there's a reason people only remember "Memory", no pun intended). I really disliked most of the musical acts playing throughout the ship, which included a band blasting classic rock covers, a guitarist who noodled around and never got close to a song, and a pianist who only seemed to know Elton John songs. There are a lot of activities that are available to do, from active stuff like the Flowrider and rock climbing wall to your usual pools, waterslides, pub quizzes, etc. The escape room was really fun, though it was tough - we had the minimum team of 6 players and we only got about 2/3rds of the way through it. Destinations: Port Canaveral was a total waste - they changed our arrival time to 2 and canceled most of the shore excursions, then there was a medical emergency so we ended up docking around 10:30. Cococay was also a bust, it was so windy half the shore excursions/activities were canceled (I wanted to go scuba diving, which was one that got canceled). Not Royal Caribbean's fault for either, of course, but still annoying. Nassau was stressful - I booked scuba diving with Stuart Cove's (Royal Caribbean doesn't have a contract with them for diving so I had to do it independently) and they were supposed to pick me up at 7:45, but the gangways didn't open until almost 8. Luckily they were picking up snorkelers from the ship and there were a total of eight divers from the ship, so they couldn't really have pocketed over $1,000 in money and left us hanging. Shopping/Casino/Spa: Not stuff I use on cruise ships, no opinion here. Annoyances: We kept getting upsold on the specialty dining (or paying the upcharge for the lobster/steak). If we didn't have a beverage package, I'm sure we'd have been constantly asked about that was well. Also the waiters kept being obnoxious about my husband not ordering dessert - the whole "are you sure? are you sure?" routine got so bad that I actually brought it up when the manager came over one evening. I also wish they would provide cups for the Coca-Cola Freestyle machines that weren't the most awkward things to lug around. So yeah, this seems like it might be kind of negative, but I did have a good time, I just don't think Royal Caribbean is really my style. I've been on Celebrity twice and much preferred the experience there. It's definitely a good family cruise ship (though on our sailing there were only a few kids onboard, about 75% of the passengers were elderly).
…
Wappingers Falls, New York
20

contributions
5

helpful votes
Today is day 101 since our July 31st cruise was canceled. 101 days since we requested a full refund! We have gotten a big chunk of our money back but we are still owed over $830! It is completely unacceptable and ridiculous that we are still waiting for this money! They should
be ashamed of themselves. This was going to be my first cruise with Royal Caribbean, I will never use them again. I should have stuck with Norwegian. We have called over a dozen times, they latest answer was by September 11th you would have your money back! Guess What? It is now September 13th and we have received nothing. I WANT MY MONEY BACK!!!!!!!!!
…
Upcoming itineraries
Itinerary
7 Night Cruise to the Western Caribbean
Departure date
Sunday, 06/02/22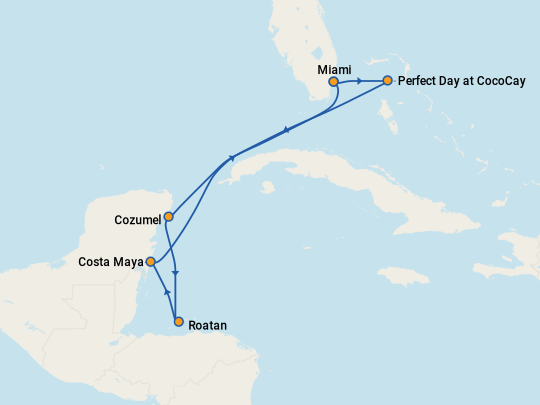 Prices are cruise only, per person, double occupancy, and are provided by our partners. Taxes, fees and port expenses are not included. Fuel supplements may apply. Availability of prices is subject to the supplier's pricing availability.